For over 70 years, PIZ BUIN® has been providing sun lovers and summer chasers with suncare solutions that help achieve a perfect balance between getting a beautiful tan whilst protecting your skin form the suns harful rays.
Piz Buin is thus not only a tanning brand, but a skincare product that should be included in your daily skincare regime. All Piz Buin suncare products contain advanced UVA/ UVB sun protection to ensure you get effective sun protection.
Enjoy life in the sun, safely.
GOT QUESTIONS WE'VE GOT THE ANSWERS:
ULTRAVIOLET (UV) RAYS
Ultraviolet (UV) rays are invisible and are divided into UVA, UVB and UVC rays. UVA rays cause long-term skin damage, including skin cancer and premature skin ageing, while UVB rays are the main cause of sunburn. Approximately 10 times more UVA rays reach the earth's surface than UVB rays. UVC rays are absorbed by the earth's atmosphere and don't affect the skin.
The intensity of sun radiation is dependent on several factors, including the time of year, time of day, latitude, altitude, ground reflections and weather conditions. The sun is brighter at midday, for example, and at high altitudes, less UV radiation is absorbed by the thinner atmosphere.
The sun makes life on earth possible, but it can also have harmful effects — especially without sufficient sun protection.
IMMEDIATE EFFECTS
Immediate pigmentation: The first colour-related effect of exposure to the sun is known as "immediate pigmentation", or a colouring that appears during exposure and disappears within 2 hours. Caused by UVA and visible light, immediate pigmentation does not protect against sunburn. Persistent pigment darkening (PPD)
PPD appears during exposure and remains for up to several days. It is not protective.
DELAYED EFFECTS
Sunburn: If you don't protect yourself from high doses of UV rays, these rays will start penetrating the layers of the skin. Eventually, blood vessels below the skin's surface will expand and leak fluids, causing inflammation and redness. Sunburn normally first appears 2-6 hours after the start of exposure, reaches its maximum intensity within 24-36 hours and disappears after 3-5 days.
Tanning (delayed pigmentation)
Tanning starts 3-5 days after sun exposure, when special skin cells called melanocytes start synthesising melanin, the body's natural tanning pigment. Melanin is then transferred to neighbouring cells called keratinocytes, which are the main cell type in the epidermis or upper layer of your skin. Unlike immediate pigmentation, actual tanning does help protect against the harmful effects of UV radiation. Tanning fades progressively, but remember that people with a natural suntan also need to apply sunscreen, as a tan does not provide sufficient protection from UV exposure.
LONG-TERM EFFECTS
Skin ageing: Sun exposure plays a major role in the skin's ageing process. Up to 90% of all visible signs of ageing can be attributed to the harmful effects of sun exposure.
Skin cancer (malignant melanoma)
Skin cancer, or malignant melanoma, appears to be caused by damage to the DNA structure of skin cells that are exposed to the sun — with just 5% of all carcinomas occurring on areas of the skin that are not exposed. Damage to these skin cells leads to the growth of degenerated cells that in turn result in cancer. In Europe, skin cancer is far more prevalent in the north, where people's skin tends to contain less pigmentation.
ACCIDENTAL EFFECTS
Solar intolerances: The most common type of sun-induced skin eruption is the benign summer light eruption (BSLE). Particularly common among young women, BSLE appears as small, itchy papules on the throat, upper chest and back of the forearms. The condition appears within hours after intense sun exposure and disappears within a few days.
Whether you're just getting a burst of sun on a weekend city break or planning to hit the beach for a long, relaxing holiday, PIZ BUIN TAN & PROTECT® Oils, Lotions and Sprays, will help you get the most out of your time in the sun.
PIZ BUIN TAN & PROTECT® combines effective UVA/UVB protection with Illumitone™. by increasing the production of the skin's tanning pigment by up to 70%*, Illumitone™ is proven to accelerate the speed of the natural tanning process – for a naturally faster, more beautiful tan.
Yes, Piz Buin is one of the first sun care brands to develop an Allergy specific range of sunscreens.
With sun sensitive skin, even minimal exposure to UV rays can cause prickly sensations and blotchiness making it difficult to enjoy the sun. PIZ BUIN® ALLERGY is specially developed with dermatologists to protect sun sensitive skin. It combines immediate and effective UVA/UVB sun protection with CALMANELLE®, a unique anti irritant shield complex* proven to help strengthen the skins' resilience to the sun. CALMANELLE® is formulated with the powerful anti-oxidant FEVERFEW PFE™ to help increase the skin cells tolerance* to the sun.
PIZ BUIN® ALLERGY, embrace the sun without the worry.
Say hello to your new favourite SUN LIPSTICK
BENEFITS
PIZ BUIN® MOISTURISING Sun Lipstick helps to protect your lips from the harmful effects of UVA/ UVB exposure while providing them with intense moisturization and with added Aloe Vera, expect nothing but the most nourished, soft well protected lips.
PIZ BUIN® ULTRA LIGHT
Ultra-lightweight protection
Most sun products provide adequate protection but can compromise on either absorption or skin hydration.
With PIZ BUIN® ULTRA LIGHT, you can have both!
PIZ BUIN® ULTRA LIGHT sprays and fluids hydrate your skin just like a moisturizing sun lotion, keeping it soft and supple during sun exposure. And thanks to their ultra-light non-greasy texture they absorb instantly and invisibly without leaving white marks just like a clear spray.
Nip And Fab Glycolic Fix Scrub 75ml
Overview
Scrub your skin to perfection with a new breed of facial exfoliator, Glycolic Fix Scrub. This 3-in-1 micro exfoliant is packed with 3% glycolic acid and salicylic acid to refine, brighten + renew. Glycolic Fix Scrub works deep into pores to cleanse, polish + reduce blemishes from the first use. With a fruity grapefruit scent, it energises + awakens the skin.
Key benefits:
3% glycolic acid: gently exfoliates + retextures
salicylic acid: cleanses pores
Specifications
Gently massage on damp skin avoiding the eye contour area • Rinse with lukewarm water • Use 1-3 times per week • We recommended that you carry out a patch test before first application. Cautions: Keep out of reach for children. Do not use on children under 3 years old. Do not use on peeling or irritated skin. Use sunscreen during day time.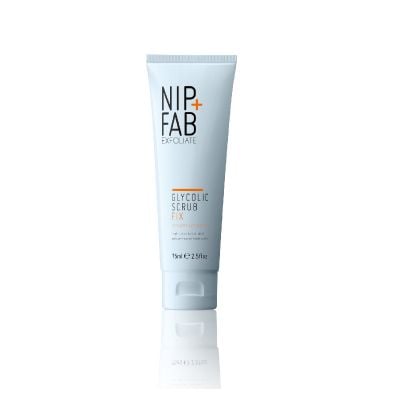 Follow us on Social Media