So unattainable looks don't inspire us, but originality does. That's why we love being different; from our exotic ingredients, to the shape of our bottles, to our quest for sustainability —we approach beauty in our own way.
OGX® is for all of us who aspire to make better choices. Our salon-inspired formulas contain exotic, active ingredients. Plus, they smell absolutely amazing. Our mission? We will never sacrifice performance in our quest for sustainability.
Our ads aren't filled with celebrity spokesmodels, and we don't try to make hair look "perfect" because we'd rather make hair look fuller, smoother, straighter, curlier, or bouncier and smell irresistible while we're at it.
That means we'll never ask what you want to "fix" about your hair, because that's something you should never even think about. We just want to know what you love about it, so we can make you love it even more
We're beauty, pure and simple.

Balance your PH with our new OGX ranges now specifically formulated to give you the prefect PH balance to maintain your hair health, shine and colour for longer.
GOT QUESTIONS? WE'VE GOT THE ANSWERS:
Nip And Fab Glycolic Fix Scrub 75ml
Overview
Scrub your skin to perfection with a new breed of facial exfoliator, Glycolic Fix Scrub. This 3-in-1 micro exfoliant is packed with 3% glycolic acid and salicylic acid to refine, brighten + renew. Glycolic Fix Scrub works deep into pores to cleanse, polish + reduce blemishes from the first use. With a fruity grapefruit scent, it energises + awakens the skin.
Key benefits:
3% glycolic acid: gently exfoliates + retextures
salicylic acid: cleanses pores
Specifications
Gently massage on damp skin avoiding the eye contour area • Rinse with lukewarm water • Use 1-3 times per week • We recommended that you carry out a patch test before first application. Cautions: Keep out of reach for children. Do not use on children under 3 years old. Do not use on peeling or irritated skin. Use sunscreen during day time.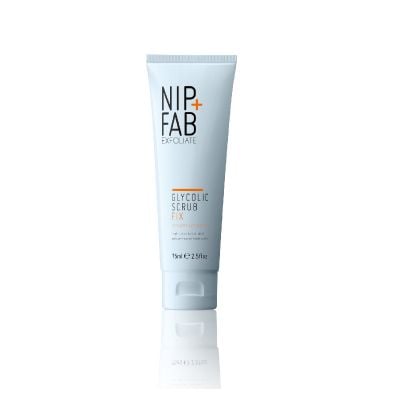 Follow us on Social Media