Originally, the product was created on the Katzev family horse farm in rural New Jersey. Straight Arrow was born when Mr. Katzev's parents created Original Mane 'n Tail Shampoo and Conditioner… that were specifically targeted for show horses with long flowing manes and tails. The formulas were outstanding and soon the line took off with the equestrian folks, but with one very important twist—the horse to human factor. Soon, the secret was out, consumers everywhere were reaping the benefits that were so coveted by the horse-owners 'in-the-know'.
The shampoo formula contains high lathering and ultra-cleansing agents that are fortified with moisturizers and emollients to help leave hair soft and ultra clean. Followed by a conditioner that helps nourish and aid healthy hair growth, leaving hair looking lustrous and silky. These micro-enriched protein formulas help to prevent hair breakage and repair split ends, achieving the goal of longer, stronger, fuller hair…the results are unbelievable! There is still an underground rumor that the Mane 'n Tail encourages hair growth. Imagine…the rest is history!
GOT QUESTIONS? WE'VE GOT THE ANSWERS:
For many years, consumers have been reporting on the remarkable results they get from using our products.
Mane 'n Tail products were originally developed for horses. Horse owners reported seeing significant improvement in the health and appearance of their horses' manes and tails. Similar results were seen when horse owners and groomers used the products on themselves. This was the beginning of the Mane 'n Tail legend. We believe our quality formulas help achieve and maintain longer, stronger, healthier looking hair by nourishing, fortifying and conditioning the hair and scalp.
The Original Mane 'n Tail Shampoo, The Original Mane 'n Tail Conditioner and Mane 'n Tail Hoofmaker Hand & Nail Therapy can be used safely on humans as well as animals.
As Straight Arrow has grown over the past 40 years, our product line has expanded to include products specifically developed for both humans and animals, but our consumers continue cross-over use of many of our products! Those products that have instructions for both horses and humans are safe to use for both.
Straight Arrow uses only approved high quality ingredients in our products which we are proud to market under the Mane 'n Tail brand. You will find personal care and animal care product information on our website as well as on individual product labels.
Yes. Mane 'n Tail Shampoo and Conditioner are safe for permed, relaxed or color treated hair. Our shampoo cleanses hair thoroughly, yet will not strip natural oils. Our Conditioner has an exclusive botanical oil based formula which helps repair the negative effects of these chemical processes. Mane 'n Tail provides a wide choice of formulas for your individual hair care needs.
Yes. The Original Mane 'n Tail Shampoo and The Original Mane 'n Tail Conditioner are safe to use on your dog or cat. Many groomers choose these products for use in their shops. We have also expanded our product offerings for dogs.
Nip And Fab Glycolic Fix Scrub 75ml
Overview
Scrub your skin to perfection with a new breed of facial exfoliator, Glycolic Fix Scrub. This 3-in-1 micro exfoliant is packed with 3% glycolic acid and salicylic acid to refine, brighten + renew. Glycolic Fix Scrub works deep into pores to cleanse, polish + reduce blemishes from the first use. With a fruity grapefruit scent, it energises + awakens the skin.
Key benefits:
3% glycolic acid: gently exfoliates + retextures
salicylic acid: cleanses pores
Specifications
Gently massage on damp skin avoiding the eye contour area • Rinse with lukewarm water • Use 1-3 times per week • We recommended that you carry out a patch test before first application. Cautions: Keep out of reach for children. Do not use on children under 3 years old. Do not use on peeling or irritated skin. Use sunscreen during day time.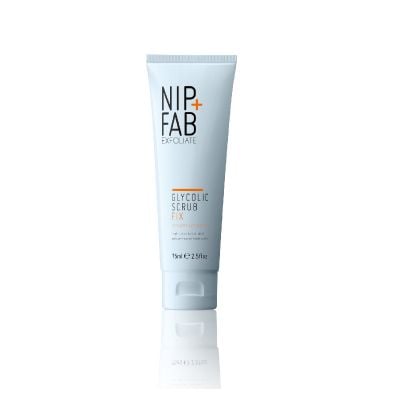 Follow us on Social Media